The Crimson Campaign von Brian McClellan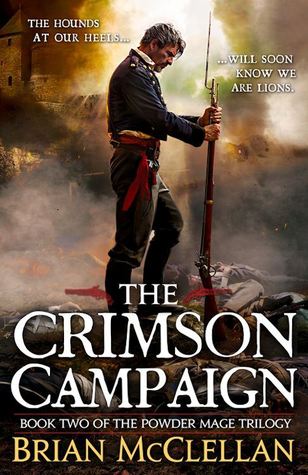 The Crimson Campaign von Brian McClellan
Info:
Genre: Flintlock Fantasy
Gebundene Ausgabe: 608 Seiten
Verlag: Orbit (6. Mai 2014)
Sprache: Englisch
Amazon:
Amazon.de
Tolle Fortsetzung der Powder Mage Trilogie, die ebenso spannend und mitreißend ist wie der erste Teil.
Rating: 7/10
Inhalt:
'The hounds at our heels will soon know we are lions' Tamas's invasion of Kez ends in disaster when a Kez counter-offensive leaves him cut off behind enemy lines with only a fraction of his army, no supplies, and no hope of reinforcements. Drastically outnumbered and pursued by the enemy's best, he must lead his men on a reckless march through northern Kez to safety, and back over the mountains so that he can defend his country from an angry god. In Adro, Inspector Adamat only wants to rescue his wife. To do so he must track down and confront the evil Lord Vetas. He has questions for Vetas concerning his enigmatic master, but the answers might come too quickly. With Tamas and his powder cabal presumed dead, Taniel Two-shot finds himself alongside the god-chef Mihali as the last line of defence against Kresimir's advancing army. Tamas's generals bicker among themselves, the brigades lose ground every day beneath the Kez onslaught, and Kresimir wants the head of the man who shot him in the eye.
Review:
Dieses Buch in Händen zu halten war wirklich eine Tortur. Leider ist Brian McClellan ein Opfer des momentan anhaltenden Streites zwischen Amazon und Hatchet, somit wurde auch meine, seit 3 Monaten vorbestellte, Ausgabe einfach nicht versandt. Nach meiner Stornierung bei Amazon, habe ich es dann auf andere Wege erhalten und zwei Wochen nach der Veröffentlichung endlich meine gebundene Ausgabe in der Hand gehalten.
Nun aber zum Buch selber. Normalerweise haben die zweiten Bücher einer Trilogie immer einen kleinen Durchhänger, um dann im dritten ein fulminantes Ende folgen zu lassen. Das wurde in diesem Fall aber glücklicher Weise vermieden.
Die Handlung setzt ansatzlos an die des Vorgängers an und schon nach kurzer Zeit hat man sich wieder in die verschiedenen Handlungsstränge und Charaktere eingefunden. Dabei wird stark auf die alten Hauptpersonen aufgebaut und sie werden noch weiter ausgearbeitet. Neue Personen treten so gut wie gar nicht auf.
Und hier liegt auch der einzig herausstehende Kritikpunkt in dieser Reihe. Das Fehlen von starken weiblichen Heldinnen, aus deren Sicht die Geschichte erzählt wird. Nur der Sidekick von Taniel, Ka-Pol, ist interessant und es wäre sicherlich unterhaltsam die Geschehnisse teilweise aus ihrer Sicht zu erleben.
Was die Handlung und Worldbuilding betrifft, liefert der ehemalige Schüler von Brandon Sanderson wieder einmal eine sehr tempogeladene Geschichte ab, die keinerlei Langeweile beim lesen aufkommen lässt und mit neuen Details zur Welt Appetit auf mehr macht.
Bisher gibt es leider noch keine Übersetzung ins Deutsche und es ist wohl auch vorerst keine geplant, was mich doch sehr verwundert, denn seine Erzählungen haben sicherlich das Niveau international erfolgreich zu sein. Heyne, Piper und Co. sollten wirklich mal einen Blick auf McClellan werfen und sich möglichst schnell die Rechte sichern.
Wer den ersten Teil mochte, wird hier wieder seinen Spaß haben. Freue mich schon auf nächstes Jahr, dann hoffentlich pünktlich zum Erscheinungsdatum!
The Crimson Campaign von Brian McClellan
Reviewed by
Darkybald
on
Dienstag, Juni 17, 2014
Rating: